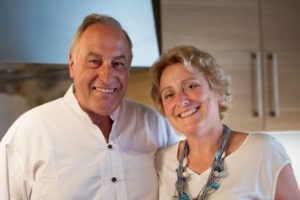 Caroline and Bruno - that's our names - so please call us with our names - simple, uncomplicated, family.
We originally came from Switzerland (Mutschellen), where we spent the majority of our lives. Bruno as a bank clerk - Caroline as head of the local library. We have 2 wonderful sons who continue to live in Switzerland.
In 2015, we had the opportunity to explore different parts of Europe during a two-month break. Within this period, we decided to put into practice our long-standing wish for our own Chambre d'hôtes in France.
On January 31, 2017, we were fortunate enough to purchase the guesthouse La Roserie in Thomirey. After the extensive renovations were completed on June 1st, 2017, our La Roserie guest house re-appeared in old dignity and has been providing our guests since then peace and security.
We speak German / French / Italian / English.